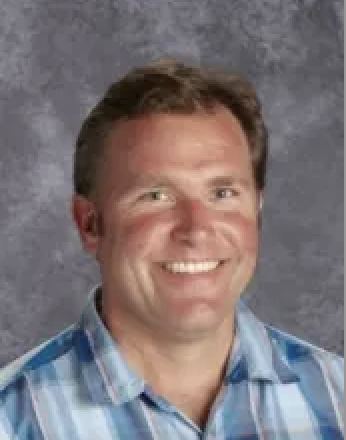 The Middleton-Cross Plains Area School District is excited to welcome Brett Wilfrid as the new Principal of Sunset Ridge Elementary School! He replaces Maria Dyslin, who accepted a position as elementary principal at One City Schools.
Wilfrid comes to Middleton-Cross Plains from Madison Metropolitan School District. He served as principal for Sandburg Elementary School for the last 12 years. One of his top achievements at MMSD is launching a dual-immersion (Spanish/English) program.
Wilfrid started his career as a special education assistant. He worked for 10 years as a 4th/5th-grade teacher, a technology teacher, and an instructional coach focused on mathematics.
"I'm excited to join the MCPASD because of its inspiring vision, great reputation, and the opportunities I'll have to contribute to district-wide improvement efforts and my own professional growth with an amazing team of leaders committed to supporting and challenging each other to be their best," said Wilfrid.
He and his wife, Jen are excited to call Middleton–Cross Plains their new home.
---
Below is Wilfrid's Introduction letter.
Click here to view Wilfrid's introduction video.
Dear Sunset Ridge Elementary Students, Families, and Staff,
I'm thrilled to be joining your community as the next principal of Sunset Ridge Elementary School!
I have studied and worked in education in various settings and countries, including in Peace Corps-Nepal and as a student at Oxford University. I've worked and learned in traditional and progressive schools, and I'm happy to bring my passion for education and innovation to a school committed to being inclusive, innovative, and inspiring.
I started my career as a special education assistant. I've spent the last 12 years as the principal of Sandburg Elementary School in Madison, where I launched a dual-immersion (Spanish/English) program, secured more than $1.6 million in grants, and was at the forefront of several innovations and initiatives, including being the first school to use 1:1 technology, designing thematic units that culminate in civic action projects, maker spaces, myriad partnerships, and more.
Of course, I didn't do any of this alone. What I'm most proud of over the last 12 years is the consistently high Climate Survey ratings students, parents, and staff gave our school. I worked hard to be in partnership with staff and families to make the student experience as safe, enriching, and engaging as possible, and I look forward to getting to know the Sunset Ridge community and working in partnership with you all.
For ten years, my wife Jen and I have lived on a small farmette near Indian Lake, and I'm excited to make the Middleton-Cross Plains area a part of my family's life again. I look forward to joining your community!
Brett Wilfrid